I'm am so happy to share one of my favorite dessert recipes as part of a shop that has been compensated by Collective Bias, Inc. and its advertiser. All opinions are mine alone. #SummerSoStrong #CollectiveBias
Peach Cobbler with a twist (check the recipe)! Buttery, flaky crust, juicy peaches and caramel sauce!
Peach Cobbler is one of those crowd pleaser foods you'd see at BBQs, Potlucks, parties, I guess because it's classic, delicious and so simple. I remember as a kid, I'd used to scarf my dinner down just so that I could enjoy my grandmothers peach cobbler. My grandmother used to always use paper plates but they weren't sturdy at all. My food has slid right off my plate tons of times. I'm sure that same thing has happened to you. You're at a cookout hungry as ever, waiting patiently to eat. You get your food and then happily walk back to your table and BAM, your food slides right off the flimsy plate onto the ground (BUMMED FACE). I hate wasting food and since food has slipped off my paper plates numerous times, I've become quite picky about my paper plates.
Now that it's summer and the weather keeps getting hotter, the last thing I want to do is wash dishes! I took a trip to Target and noticed Dixie Ultra® had some super cute new plates and I thought, "hmmm", they're cute but are they sturdy? After doing some quick research I was sold.
As you can see in the first picture above, I was totally able to hold my plate of yummy peach cobbler with one hand! Dixie Ultra® plates are super sturdy. I am glad that I can hold my paper plates with confidence! What really sold me, was their Soak Proof Shield™ that can stand up to the heaviest food and the FlexProof™ Technology, so you'll never have to worry about food sliding off these plates! Dixie Ultra® plates come in a couple of different sizes. Their 10 inch plates can hold up to 2 lbs of food! I bet these plates would be perfect for hefty potato salad and burgers!
I don't know about you, but this summer, I'd rather spend time with my family, cooking and having fun than scrubbing dishes.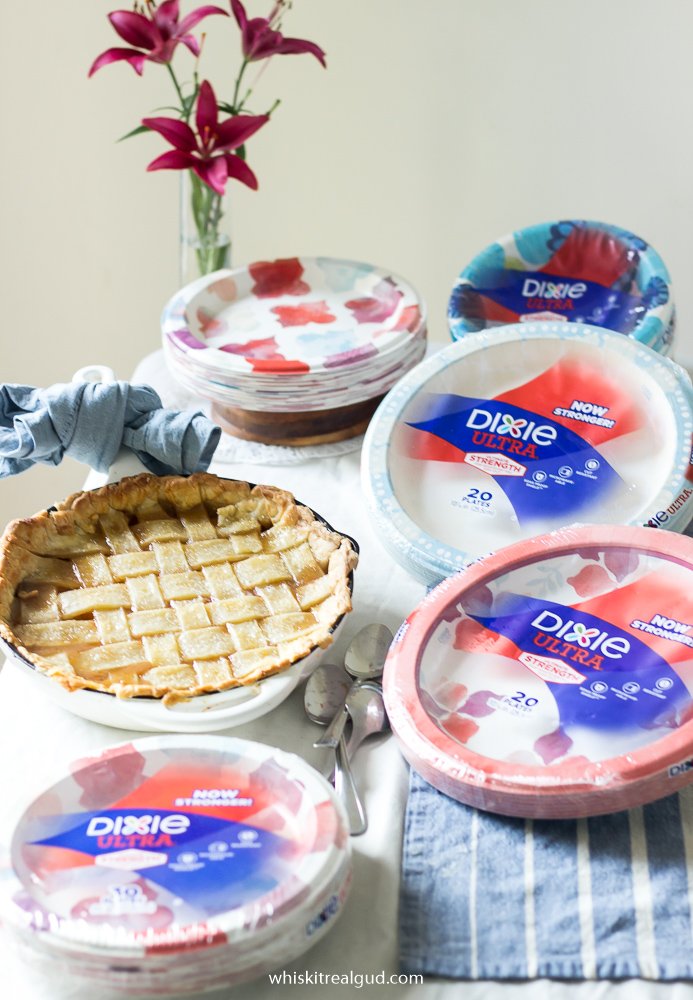 Are these plates cute or what?! Click on the above shoppable image to purchase and for a limited time only, Dixie Ultra® has these exclusive summer prints only available at Target stores! And get this…Save 10% on Dixie Ultra® . Make sure you check out their new beautiful disposable plates here.
This skillet peach cobbler is super easy to make and sooooo darn good! I used a 10 inch skillet and canned peaches and pre-made pie dough. Usually, most people use flour or some type of thickener to thicken the sauce but guess what I used? I had some cinnamon streusel bread that I food processed into bread crumbs. I only added about 1/4 cup of the cinnamon bread crumbs. You can find cinnamon bread at most grocery stores. I also added pats of butter and sprinkled raw sugar on top of the pie for a nice crunch. I really love how the cinnamon bread bread crumbs thickened the sauce and the flavor is amazing! I think this will be my new way of adding even more depth of flavor to my peach cobbler. You have to try it!
Peach Cobbler and Dixie Ultra So Strong Summer at Target
Peach Cobbler with a twist (check out the recipe)! Butter, flaky crust, juicy peaches and caramel sauce!
Ingredients
Peach filling
29

oz

can peaches

1/4

plus 1/2 cup sugar

1

stick of butter

1 1/4

tsp

lemon juice

1/4

cup

cinnamon streusel bread food processed

1

tsp

cinnamon

1/8

tsp

nutmeg

optional

small pinch cardamom

optional

1/4

tsp

salt
For the dough
One package of premade pie dough

pats of butter

and raw or regular sugar
Instructions
Preheat oven to 350 degrees

Add all of the cobbler ingredient to a large saucepan over medium high heat until boiling then simmer for 20 minutes. Let cool. Unroll the premade pie dough. Place one into the skillet. Cut the other into half-inch-wide strips. Weave strips into a lattice over peaches. Sprinkle the top of pie with 1-2 tablespoon sugar and add pats of butter. Bake for 30-35 minutes or until the pie dough is golden brown.
If you make this peach cobbler, snap a photo and hashtag #whiskitrealgud on Instagram!! I would love to see it!
Are you following me on Instagram, Twitter, Facebook and Pinterest?
Thanks again for reading and subscribe to Whisk It Real Gud to have each of my posts delivered straight to your e-mail box!
If you are a food blogger, we would love for your to join our social networking group on Facebook. If you aren't a food blogger, you can still join our recipe groups here and here.